Tasteful Selections, bite-size potato category & sustainability leader, introduces 100% recyclable & compostable paper packaging
New PaperLock™ technology packaging first of its kind to the market,
offering outstanding product and environmental sustainability

Arvin, Calif.,— Tasteful Selections®, leading the bite-size potato category in innovation and sustainability is pleased to announce the limited launch of its new 100-percent plastic-free, recyclable and compostable packaging.
"This new paper packaging with PaperLock™ technology is a major step forward in sustainable packaging. It offers superior light protection and natural absorption characteristics that protect our potatoes and help keep plastic out of the waste stream," said Tim Huffcutt, vice president, sales and marketing operations. "This means our customers and consumers can be confident that when they buy our potatoes not only will the product last longer but they will also be helping to give back to the environment."
The new packaging was a long time coming for the Tasteful Selections line. "We were waiting to release the new line of packaging until we had the best product for our customers," Huffcutt said. With the recent innovation in paper packaging, the fiber strength and "stretchable" advancements have improved package integrity and made the item competitive with plastics.
"When all is said and done, this new packaging technology gives more power to consumers to take sustainability into their own hands", he said.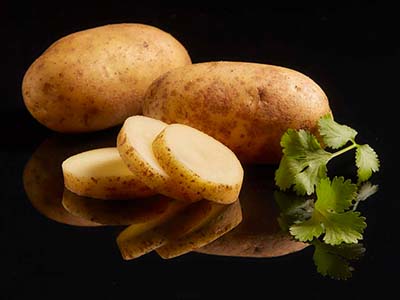 All major growing regions are up and running russet potatoes. We are starting to see some larger sizes coming to market. With the influx of size, we may see the price on the larger-sized russet potatoes under some downward pressure in the coming weeks. Aside from sizing, demand is very steady. Shippers continue to struggle to find available transportation, a trending issue across the country.
Yellow potatoes are available in all major regions; most areas have exceptional quality and quantities. Overall, this variety is the variety to be advertising in the next couple of weeks.
The white potato market has seen little change. The majority of supply and demand is centered in the Northeast and Southeast.
All fingerling potato growing regions are up and running. We are seeing exceptional quality on both red and yellow fingerling potatoes, with the exception being purple fingerling variety. The quality of purple fingerling potatoes is expected to improve in the next couple of weeks.
Growers in Wisconsin experienced a large amount of rain towards the end of August and early September. We will know more in the coming weeks the effect on red potato supply.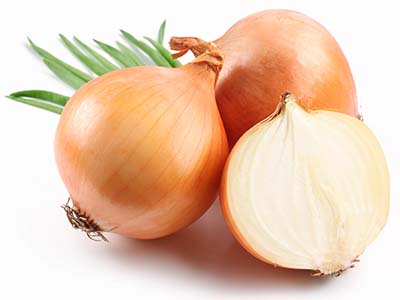 Growers in Idaho and the Columbia Basin are starting to ramp up storage crop onions, as customers make the switch from products in California and New Mexico. Supplies are plenty for all colors of onions. Overall the current size profile is trending on the smaller side, with a lot of pre-pack and medium-size availability. Jumbo and larger-sized yellow onions are in tight supply. Quality is great on new crop onions and demand remains steady.
Transportation remains tight and expensive in the Pacific Northwest and Idaho.
Better Business, Better World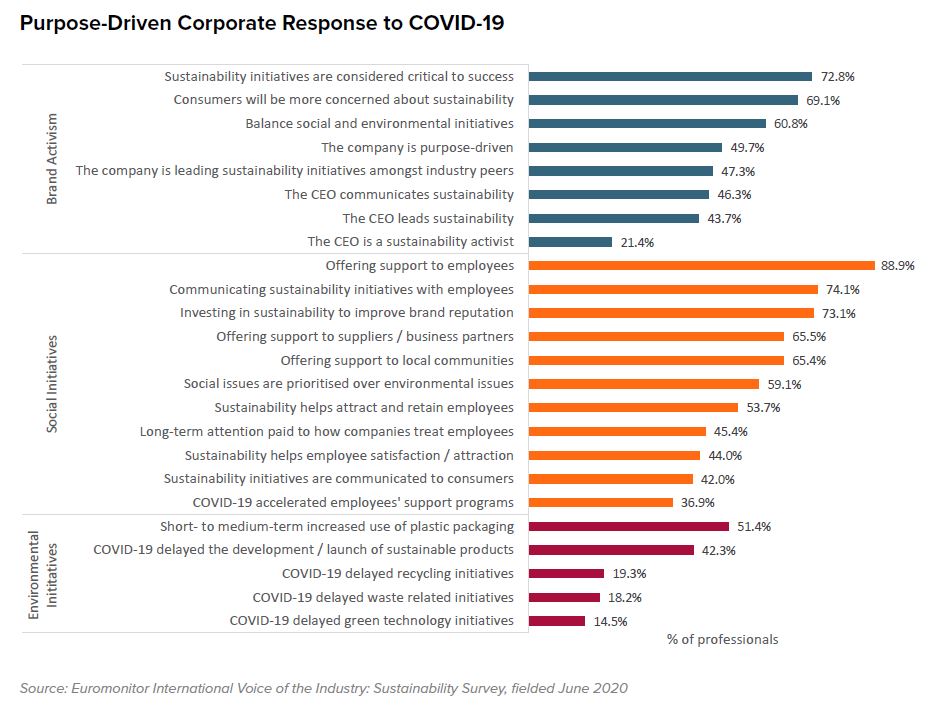 With consumers paying closer attention to companies' actions during lockdowns, brand activism gained a new sense of social purpose. In 2020, 73% of professionals believed sustainability initiatives were considered critical to success. Businesses had to prioritize social action and help consumers achieve more sustainable lifestyles.
Chief executives openly communicated with compassion during the pandemic, taking the initiative to protect staff, customers and communities. COVID-19 has given businesses the chance
to Build Back Better, develop emotional connections with consumers and stand up for the most vulnerable.
Consumers expect brands to act with purpose beyond the pandemic, with some protective measures like more flexibility in the workplace perceived as the new normal. In August 2020, 14 senior executives from Danone, Philips, L'Oréal and Mastercard, amongst others, signed an open letter with the for-benefit organization Leaders on Purpose proposing an economic roadmap to Build Back Better.