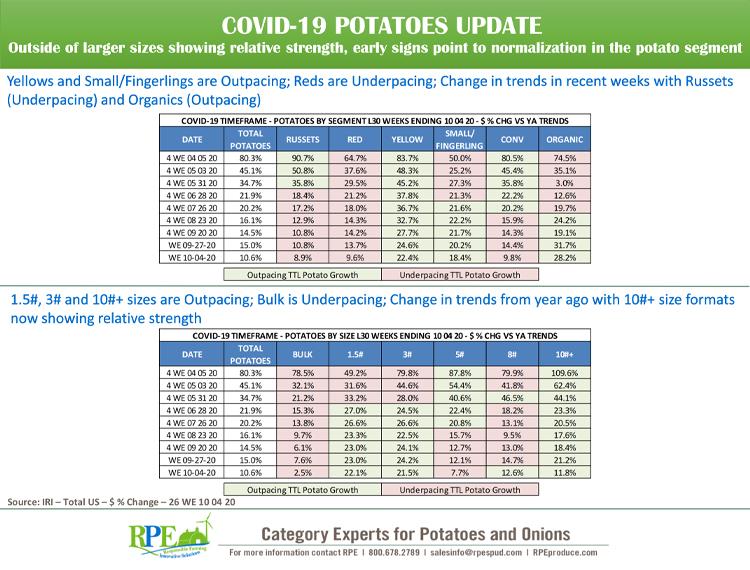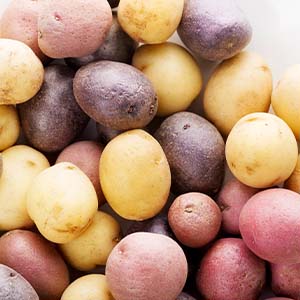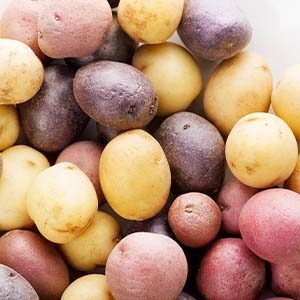 Demand for small packs of russet potatoes continues to be above average due to the USDA Farmers to Families Food Box Program. The demand for larger-sized russet potatoes is reduced due to the lack of demand from the foodservice industry. Overall, demand in the russet potato market remains strong. We anticipate this will continue through October and transition into November and the Thanksgiving holiday. Pricing is expected to remain stable.
Growers in the Midwest are looking for orders on red potatoes. Red River Valley growers are shipping new crop of red potatoes.
Yellow potato pricing and demand remain very steady. All shipping areas appear to have good supply.
Availability of white potatoes is limited. Demand remains steady on the east coast; product remains in those locations. The limited supplies appear to be suitable for the current demand.
Ample supplies of fingerling potatoes are available in all shipping areas. Pricing is great for promotional opportunities. Contact your RPE sales representative today!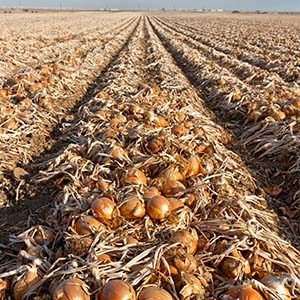 Onion harvest has wrapped up in the Columbia Basin and Idaho. Growers had a successful harvest due to excellent weather and growing conditions. Demand has been steady across the board for all three colors. The USDA Farmers to Families Food Box Program continues to drive demand for medium-sized onions. The demand for white onions from Mexico continues to be decent as well. Jumbo-sized onions are softer due to foodservice business being slower than normal.
Let RPE help you with your Thanksgiving onion needs – contact us today!

Potatoes that are frozen will exhibit ice crystal formations within the tissues. When ice crystals form and thaw in the cells of the potato, the tissue may become soft and watery. A dark line often separates the damaged tissue from the healthy tissue. Externally, the potato may appear wet, flabby and darker in appearance. Vascular tissue is very susceptible to low temperatures and may turn black.
Any potato showing signs of being frozen or the appearance of wet breakdown, score them against the three percent tolerance for freezing and the one percent tolerance for soft rot and wet breakdown.
Since potato quality can't be improved after harvest, the goal in storage shifts to impeding quality loss. This can be achieved through proper storage, and handling practices.
Fresh potatoes are living, breathing organisms, even after they have been harvested and put into long-term storage. They undergo biological changes that can be slowed down, but not stopped. Keeping potatoes in a dormant state helps to slow down quality degradation.
Temperature variances cause damage and can occur at any point in the supply cold chain process. This is especially important to remember now with the continued wintry weather in many parts of the country.
Maintaining appropriate storage and supply chain temperatures are crucial for maximizing overall quality and shelf life of fresh potatoes.