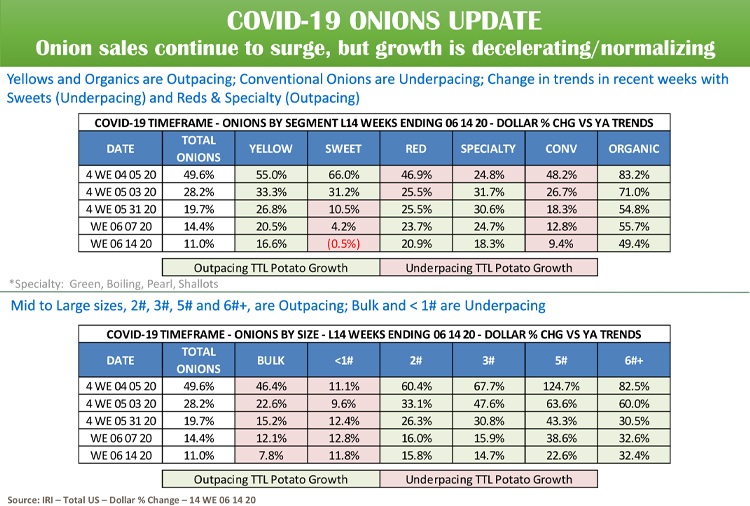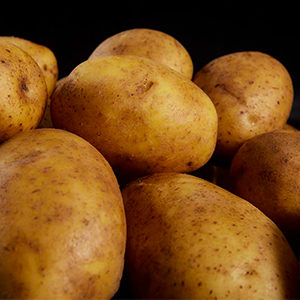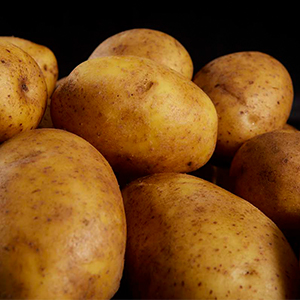 Due to an uptick in the foodservice and processing categories, combined with higher than expected shrink in all remaining sheds, the russet potato market feels extremely tight—creating a stronger open market. Every shipping area has an uneasy feeling that they may not have enough supplies to carry them until new crop russet potatoes are available.  Pricing remains strong on all sizes with a little uptick on the larger-sized russet potatoes.
Demand for yellow potatoes remain steady. Pricing continues to be at a near-record level and product is extremely limited in availability.
New crop white potatoes are available from growers in both North Carolina, Virginia and California but in a very limited way. Pricing remains steady.
Supplies of new crop fingerling potatoes are available in California at a very reasonable price. Movement is stable.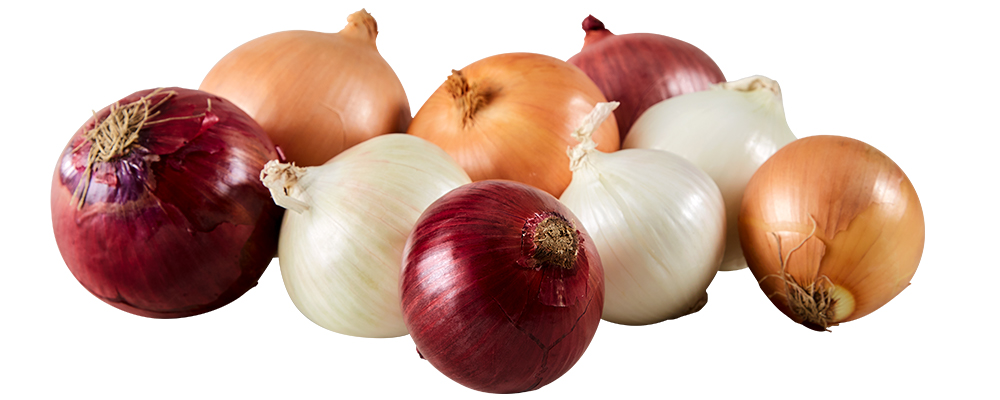 Overall, onion demand is excellent right now. Pricing is trending upwards, reflecting the increased demand on all onion sizes and colors. With the USDA Farmers to Families box program, the demand is highest for medium-size onions and consumer packs. The Fourth of July pull also added increased demand. Foodservice business is slowly come back online and is close to normal demand again.
Growers in the Columbia Basin started shipping over-winter onions, as well as Walla Walla sweet onions. New crop onions are also available out of New Mexico at least through the end of July and into early August.
Contact your RPE sales representative today for any of your onion needs!

The Foodservice industry has been one of the hardest-hit sectors during the Coronavirus epidemic. The industry's reaction to these challenges has been everything from disaster to creative business innovations to hope and everything in between.
The positive news of late is volumes are back to roughly 60-70 percent of pre-pandemic numbers. The negative would be the expectations of losing approximately 30-40 percent of the restaurants that were open prior to early March. The challenges of random rules from city to city, limited seating, limited income generation, PPP money drying up and certain owners having loans on their businesses has created a very trying time for the industry.
With guest counts down due to limited or no inside seating many restaurants have put a new or heavier emphasis on take-out. This has led to a simplifying of menus to assist with preparation, ingredients, cooking and staffing. Higher-end restaurants who can't make normal take-out work have created food kits to go where customers can take home offerings to be prepared at home with step by step instructions of how to cook their meals. This has also led to a heavier reliance on certain produce items and a lesser reliance on others. Using potatoes as an example, fries, tater tots and other varieties of commonly offered sides do not hold up well for take-out. Baked potatoes are not only a better option for these meals but also a much easier application for the restaurant itself.
Other question marks for Foodservice companies involve the short and long term future for schools, hospitals, conventions and tourism just to name a few. These are all sectors of the industry, which have in the past been consistent revenue drivers. What happens to them going forward will have a major impact on the return to normalcy for Foodservice.
Many people within the industry we have spoken with expect it could take until well into 2022 before the foodservice/restaurant industry recovers. By then many expect it will be a different landscape than what existed just a few months ago.