National fresh russet potato supplies were ~93 – 95% of normal for the remainder of the season, due to harvest losses from the Idaho frost and cooler temperatures coupled with higher precipitation throughout the Midwest.

Strong shipments season to date
The national supply forecast predicted ~85 – 90% availability during June and July. Fewer russets were capable of storing into these months due to the weather events.
Processors (frozen and refrigerated) experienced strong demand and competed for any available supplies.

Red and yellow potatoes were below 90% of normal with very limited May, June and July supplies.

Heavy losses in North Dakota, Minnesota and Wisconsin due to the heavy autumn rains lowered total harvest and the ability to store into spring.
Limited amount of seed and potato production in southern states limits the availability of extra acres being planted in Florida, California, New Mexico and Texas.
Demand for all potatoes is at unprecedented levels.

While fruit sales were up +19%, vegetable sales surpassed fruit gaining +27% over the same week last year (w/o March 14).
Potatoes saw a larger spike at +45%.

Products that support home prepared meals are outpacing the strong produce department trends.
In short, the more an item or category is considered storable and a staple, the greater the increase in year over year growth triggered by COVID-19 crisis.

Shipments are at 150% of normal for this time of year for retail; however, the industry is not meeting full demand during the past 2 weeks. We are starting to see the pipeline being replenished and believe by middle of the week of March 29-April 4 that the industry will be able to match supplies with demand in a timely fashion.
Meanwhile, foodservice business for fresh potatoes is at 30% – 40% of normal.
This is creating the most challenges in Idaho as they are heavily skewed to foodservice sales — ~40% of Idaho potatoes are shipped to that sector. Most other states are less than 15% dedicated to foodservice.
With the frozen and refrigerated segment (French fries, hash browns, tater tots, etc.) demand at retail is strong — but demand among foodservice entities is ~65% of normal
Post-pandemic Forecast: April, May, June, July, and August
We anticipate retail business to be at 110 – 115% of normal business beginning Approximately April 6.
The four-week surge has/will reduce April, May and early-June available volumes to 85-90% of normal.
For late-June and July, we forecast 70-80% of normal. This is mostly created because with the challenging harvest last year the potatoes did not have the storability to make it into these months.
Red and Yellow potatoes will be extremely scarce — ~20 -30% of normal with multiple outages as we wait for new crop to begin in early August.
Potential Supply Solutions:
1.       Larger-size russets from Idaho; the challenge is having enough pack capacity to put them into bags. Idaho sheds are designed to pack cartons for foodservice and have limited bagging capacity. Utilizing these for bulk table retail merchandising may be the best way to access this volume.

2.       Processors are looking to sell off some of their storage supplies. These are mostly a Burbank variety, same as what most of Idaho ships this time of year. The challenge is that these potatoes are stored to maintain low sugar content for better frying colors, meaning they store them at higher temperatures ~50 – 54 degrees F and lower humidity 85-95%, compared to Fresh potatoes being stored at ~40 degree F and high humidity 96 – 98%%.

o   When stored at higher temps and lower humidity the potatoes respire more and become slightly more dehydrated. Therefore many potatoes currently in storage will not be acceptable to pack for fresh. We believe over the next three weeks there will be many attempts to troubleshoot the supply-demand situation. Unfortunately, it may also confuse customers and consumers, contributing to a belief that there are not good quality potatoes left as many failed lots will be tried.

o   However, there are some available potatoes that can help us meet need while feeding the nation. Compared to what is shipped from all states other than Idaho, the potatoes will look different. The Burbank variety has slightly deeper eyes, is brighter and less blocky, and will have greater risk of both pressure- and impact-bruising. (See pictures).

o   If these potatoes will not work for your customers, we will need to determine what volume we will have available to ship to you.

o   These potatoes will be available to pack in April, May and possible June depending on quality.

o   By introducing the process potatoes into the retail supply chain we will be able to meet the extra demand during April, May and June, as they will help extend our own potato supplies.
July will still be a big challenge. We believe the industry will only have ~75 – 85% russets needed to meet normal demand, depending on how many process russets can be utilized. This is a fluid situation, and we will send additional updates as new insights become apparent.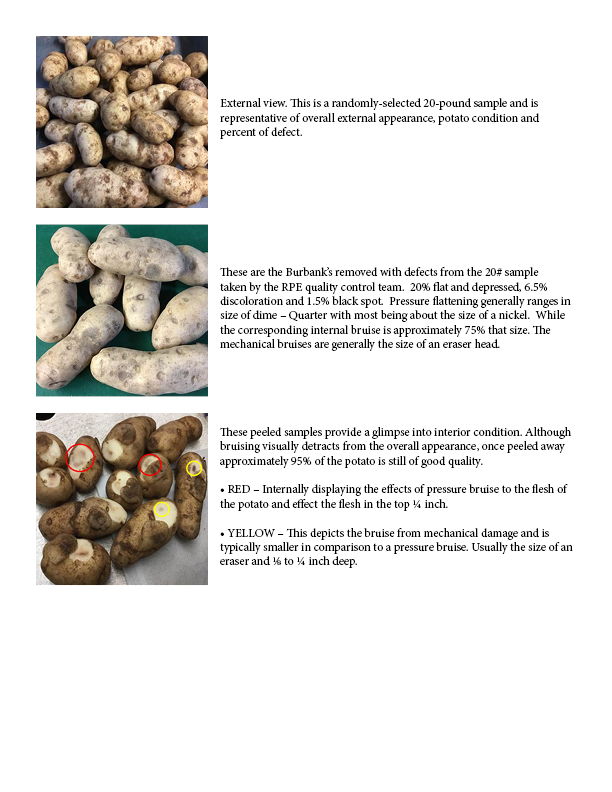 Executive Vice President, Sales & Marketing
RPE

Chief Executive Officer
Wysocki Family of Companies/RPE