Category Insight - Total U.S. Snapshot - Sweet Potatoes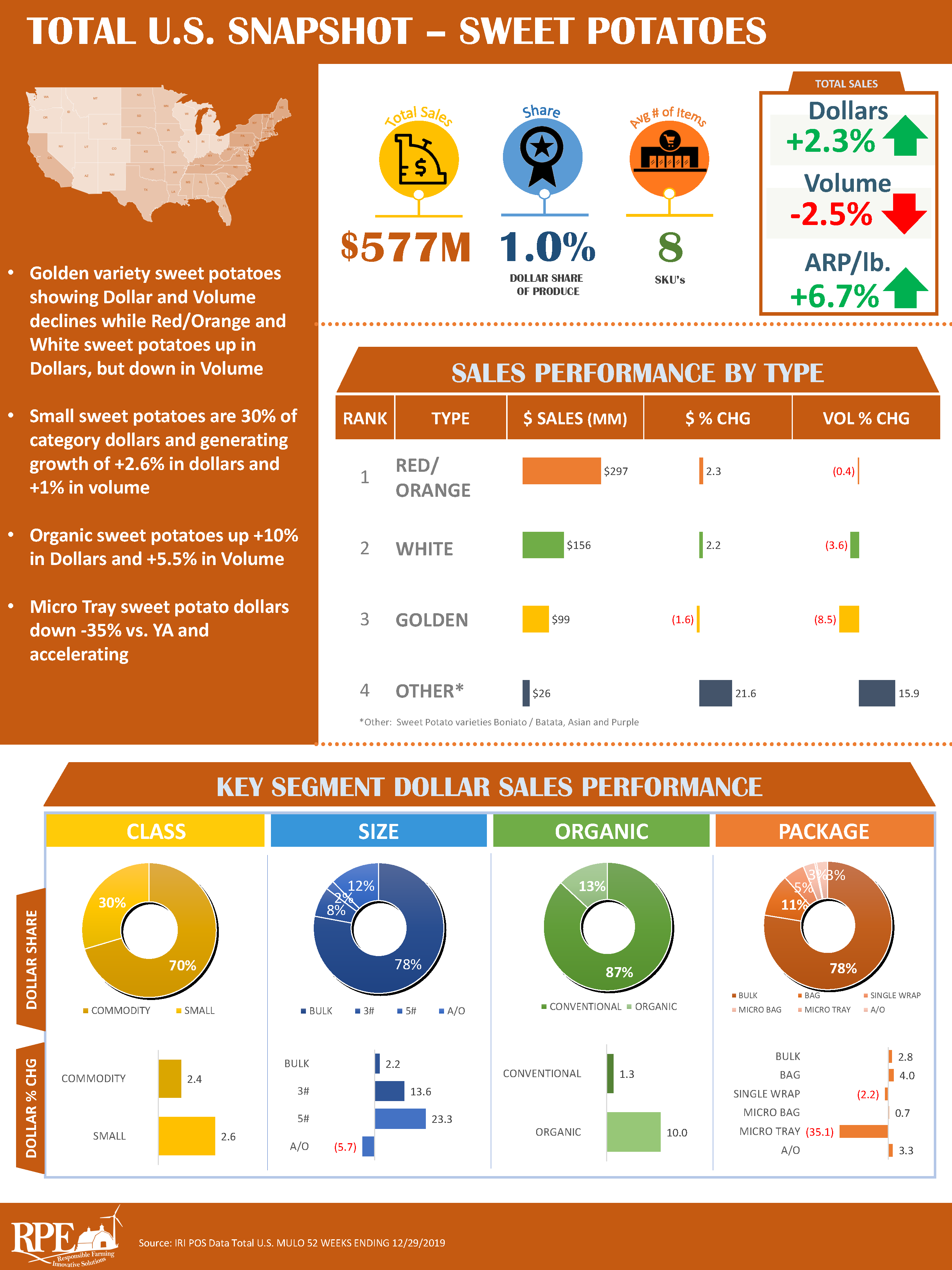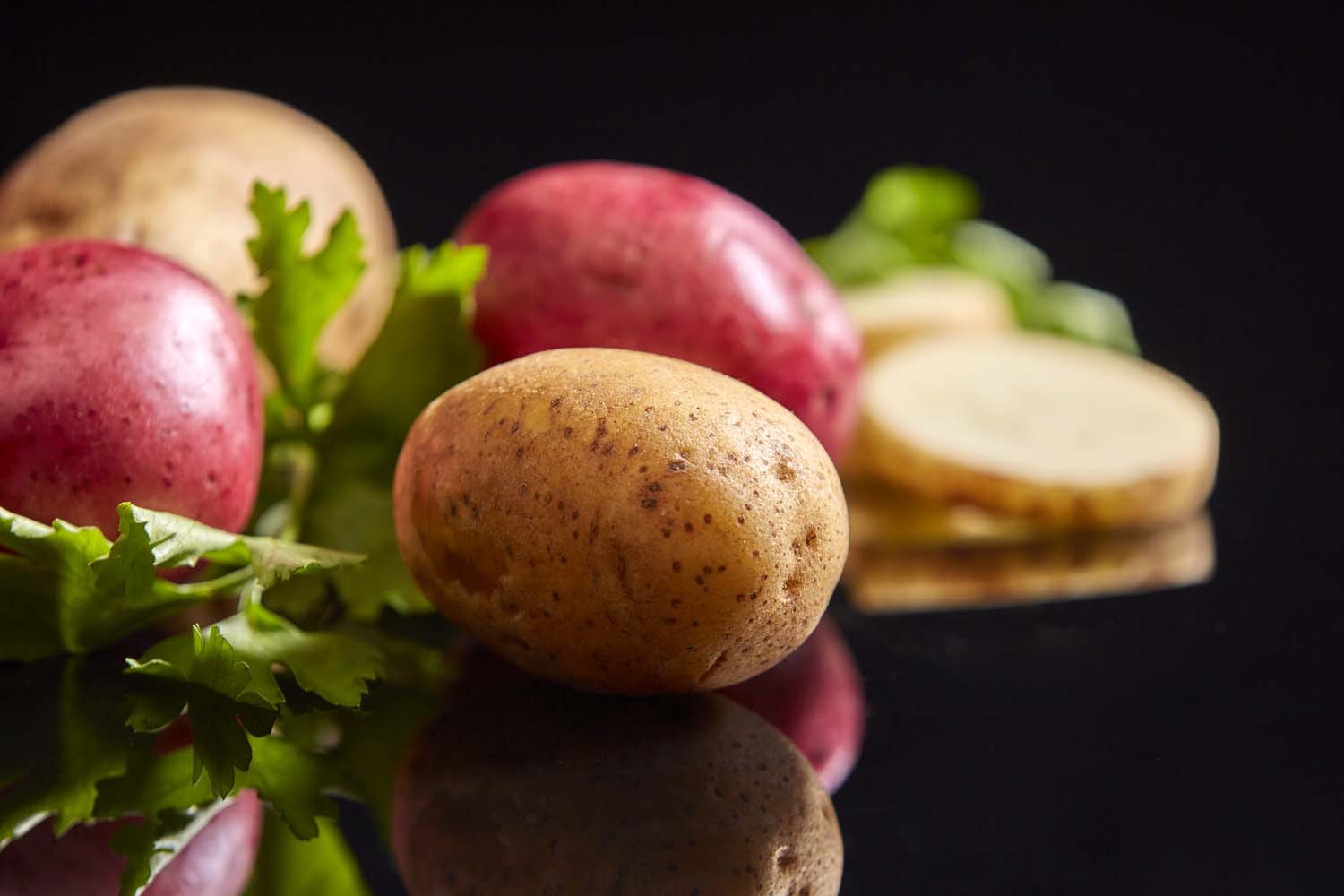 The russet potato market has seen minimal change. Demand across the board remains slow; this is expected to last the remainder of the month. Pricing remains steady, with the strongest part of the category being the large-size russets potatoes. This is due mainly to low availability.
Storage crop yellow potato supplies are winding down in the Midwest, with a good quantity remaining from growers in Colorado, Idaho and Washington. Pricing remains relatively strong compared to year-over-year. New crop yellow potatoes are starting to become available from growers in Florida, but at a considerably higher cost. Nonetheless, quality looks great for those customers that are willing to pay a premium for the new quality.
Supplies of storage crop white potatoes are nearing completion, with the majority of the remaining crop availability in the Northeast. This coincides with most of the demand remains as well. New crop white potatoes have also begun in Florida with those supplies remaining in the southeast.
Plenty of storage crop fingerling potato inventory remains in Colorado, Idaho and Washington, at a very reasonable price. New crop fingerling potatoes are becoming available from growers in Florida and California. Product looks gorgeous; however, most of the new crop supply remains close to the growing region.
The yellow onion market has softened on both jumbos and medium-size onions this past week. Demand is down; however, that is typical for this time of year.
Growers in Mexico have started to bring white onions to market causing demand and pricing in the U.S. to fall over the last couple of weeks. While a lot of growers in the Columbia Basin and Idaho have concluded their white onion season, there are still some growers with white onions available.
Red onions continue to be in abundant supply from growers across the country. In addition to that supply, growers in Mexico are starting to bring red onions to market. Pricing remains soft due to ample supply.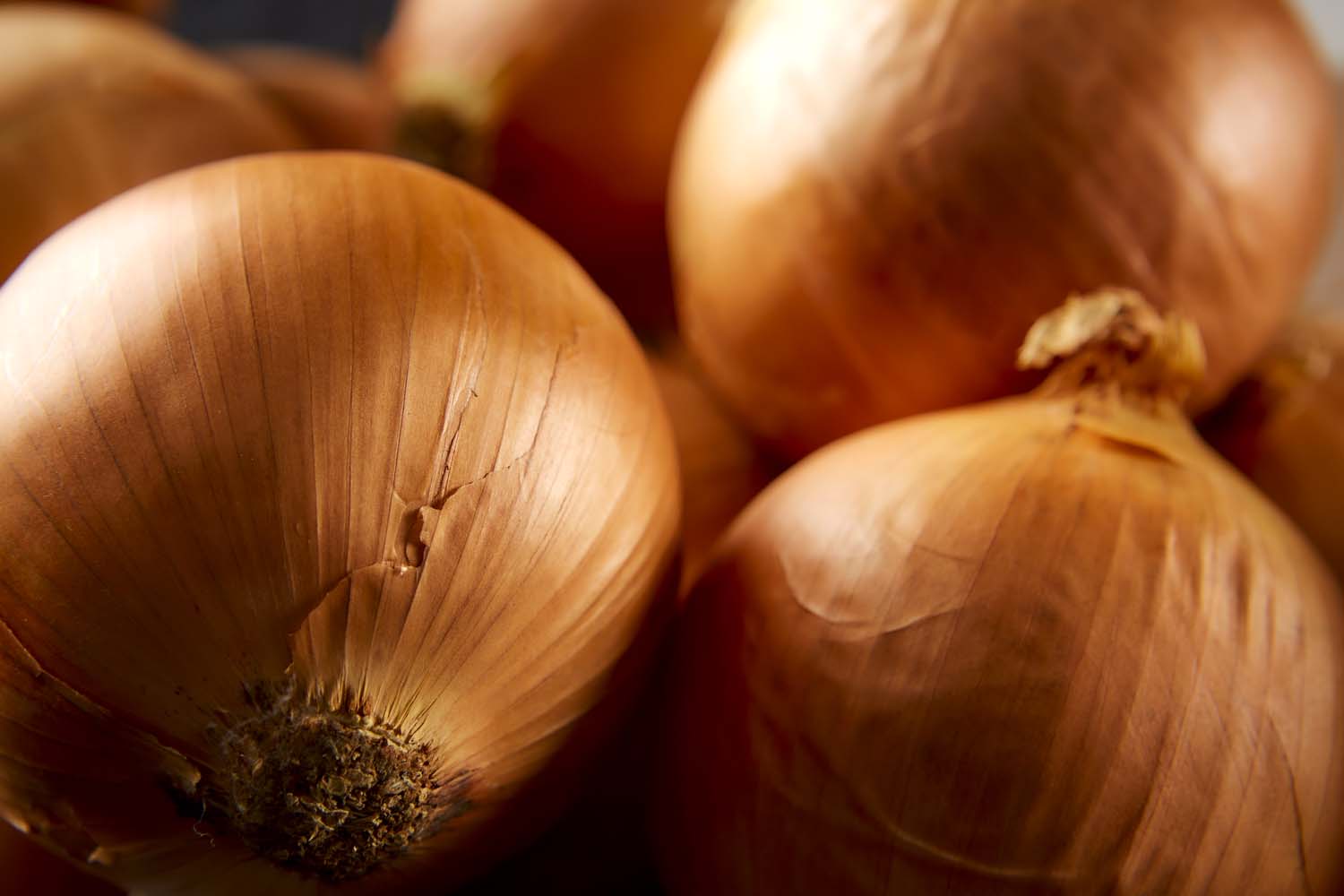 The food production industry has weathered many changes since three brothers started Wysocki Farms in the 1950s. The modern food supply chain has grown increasingly complex, transporting food across the globe, adapting to shifting consumer demands, and addressing health concerns such as food-borne illnesses and allergens. Our company is committed to meeting these challenges head-on.  The food safety program we put in place not only aims to ensure regulatory compliance, but to model a culture of continuous improvement that sets a standard for the potato and onion industries.  
As a vertically-integrated company, we can enact food safety standards in all areas of the supply chain, from the farm, to packaging, to storage and distribution. Our suppliers and facilities are compliant with the Food Safety Modernization Act, legislation passed in 2011 that gave the FDA more regulatory power in how food is produced. Among other changes, FSMA shifted the focus of food safety from reactionary practices to proactive, preventative systems, incorporated science-based safety standards, and called for better traceability from farm to customer.  Our farms and facilities have passed a variety of third-party food safety audits to demonstrate compliance with the new food safety standards.
As defined by the FDA, food safety hazards are "any biological, chemical (including radiological), or physical agent that has the potential to cause illness or injury" (21 CFR 117.3). Examples of these hazards include food-borne pathogens such as Salmonella, or foreign materials such as glass or plastic. Our food safety system focuses on minimizing the impact of the three main sources of food safety hazards: 1) people, 2) ingredients, and 3) the production environment.  Below is a small snapshot of what we do, among other practices, to ensure our products are handled in sanitary environments, and that we control and prevent opportunities for contamination.  
People: Humans can be, not surprisingly, a major source of food-borne illness and product contamination. To combat this, we:
Train our employees regularly on Good Agricultural Practices (GAPs) and Good Manufacturing Practices (GMPs), including hygienic practices such as washing hands.
Cultivate an "audit-ready everyday" culture in which employees at all levels feel pride in their work and take ownership of their food safety-related responsibilities.
Empower cross-functional food safety teams, which include members of the management, operations, food safety, quality and maintenance departments, to gauge how we can improve our practices and enact changes.
Ingredients: Several procedures verify that suppliers are following regulatory standards for food production and that we get the safest, highest quality produce, ingredients, and packaging possible:
Assess potential suppliers through our supplier approval program before we use their product. This process includes collecting a variety of food safety documents, reviewing audit reports, performing risk assessments, and in some cases, making site visits.
Help our partner growers and packers provide the best possible products. Our highly-trained sales, agronomy, quality and food safety teams serve as informational resources, providing advice and solutions to our suppliers' challenges.
Test our traceability and recall programs twice a year, to confirm that in the case of defective products, we would be able to determine the source and their destination to address the issue.
Environment: Our food safety systems control and monitor the production environment at our farms, storage facilities and packaging plants in order to:  
Keep our equipment in good repair through preventive maintenance and internal inspections. These measures ensure that whether it is a tractor in the field or a conveyor in the packaging facility, it won't be a source of contamination.
Adhere to rigorous sanitation programs that go beyond industry standards. For example, although it is not currently required for potatoes, our company's facilities carry out ATP testing after sanitation, to verify that the sanitation was effective.
Ensuring food safety is a never-ending process. Scientific knowledge continues to evolve, informing new food safety standards and best practices. Our company will continue to develop along with them in order to provide our customers with safe, superior produce for the next 60 years and beyond.
Other Resources:
Overview of FSMA:
Challenges in Food Safety
Grow and celebrate with Tasteful Selections®!